Description
The current generation of Beacon Interrogator radars is monopulse capable, interfacing with both Air Traffic Control Radar Beacon Systems (ATCRBS) and Mode Select (Mode S) aircraft transponders. Flight status information, such as aircraft identification, location, airspeed, and heading, are provide to system managers through communications between the radar and an aircraft.
Advancements in technology have enabled new air service capabilities, including the retrieval of GPS enabled aircraft status information by ground stations, and have brought about the need for updated and more sophisticated radar maintenance and certification tools. Freestate Electronics has developed the second generation Monopulse Beacon Test Set, the MBTS II, to meet these requirements. The MBTS II provides the functions necessary to verify the performance of all transponder radar systems against the latest ICAO requirements and standards.
Features
Two RF channels create monopulse replies for up to 4,096 independent targets
ICAO and AIMS compatible ATCRBS, Mode 4, and Mode S signals
Mode S COM A and COM B capable
1030 MHz Interrogator output and 1090 MHz Reply input for transponder verification
Target replies triggered by internal, external, or decoded RF interrogations
Azimuth position synchronized to either phased array or antenna pedestal APG data inputs
Pulsed RF or CW operating modes
LabVIEW® based operator control interface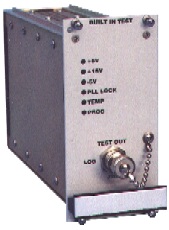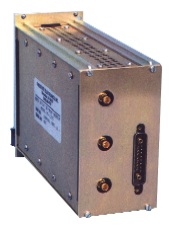 Operation
MBTS functions are controlled by use of a laptop PC loaded with FSE virtual instrument software.

The characteristics of each pulsed RF reply are precisely controlled by digital signals from the Process Control and Communication module.

All reply parameters of each target aircraft, including transponder emulation capability, lockout state, and extended length message content, are stored as unique entities in program memory.

The optional second Reply Generator module enables complex target movement, including coincident target placement, and maximizes the number of targets which can be generated.
Construction
The MBTS electronics are housed in nine RF shielded VXI plug-in modules mounted in a standard 7-inch high, 19-inch wide, rackmount chassis. Typical module construction is indicated.