Monopulse Beacon Test Set

The complexity of modern monopulse transponder radar systems necessitates sophisticated maintenance and certification test instruments. To meet this need, Freestate Electronics has developed the Monopulse Beacon Test Set (MBTS). The test set provides the signals necessary to quantify the performance of both ATCRBS and Mode S radar receivers. It also provides technicians with the capability to verify radar system performance, such as Overall System Sensitivity (OSS), through remote control operations.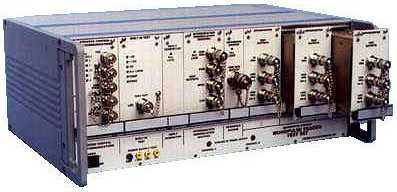 Monopulse Beacon Test Set


The MBTS system features:


Monopulse reply generation of up to 32 ATCRBS and/or Mode S targets per scan
Reply generation synchronized with azimuth data from the antenna pedestal
Continuous Wave (CW) and pulsed RF operating modes
High accuracy output levels, Sum output range of +10 dBm to -85 dBm
Delta/Sum ratios from +12 dB to -47 dB supported
User configurable Sum and Delta azimuth patterns
Replies triggered by decoded RF interrogations, or by internal or external pulses
Mode S All-Call and Roll-Call protocols supported
GPIB or serial control of all functions
LabVIEW. based control software running on a laptop Pentium computer

A data sheet detailing all MBTS functions and capability is available as a PDF file.